The Triumph of Rosemary Announcement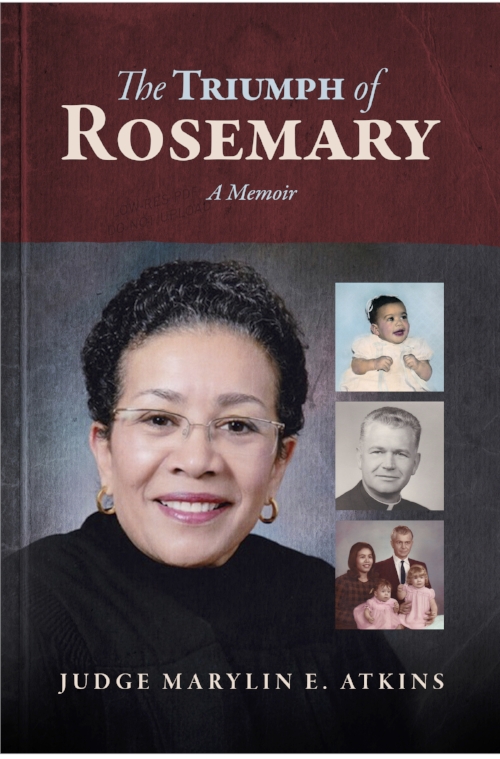 My husband and I, as the romantic, religious, and racial renegades that we were back in the 1960s, created a legacy for our love and our lives that shouts to the world that we love with our hearts, our minds, and our souls. Not our skin or its color.
-Judge Marylin E. Atkins
One day in November of last year, our mother sat down, opened a text edit file on her computer, and started writing her life story. She began with her adoption, and wrote chronologically. One day in April, she announced that she was done. We'd spent the winter listening to her read us passages after they flowed from her like the events had happened recently, not 60 years ago, as in the case of her school mate telling her, "You can come to my sleepover, too, Marylin," after announcing to her white friends that her mother had declared that Marylin wasn't dark, and therefore could join the party. What did Marylin do? She didn't go to that party, that's for sure, but what she tells the little girl will make you laugh out loud!
Editing the passages about our father's renal failure and his quick decline in health before his death in 1990 was not easy for us to read, nor for our mother to write. You will need tissues handy when you reach that part of the book. We know you'll turn the page, wondering -- as we all did back then -- how are we going to live without this man?
Reader, you'll see from the the title, The Triumph, that this tale has a happy ending; you'll see from the photo that baby Rosemary becomes a judge. And you know the kids are OK because, well, we're publishing our mom's book!
What you don't know yet is just how profound this story is: race, religion, a quarter-century age difference. Who knew? Lifelong friends of Marylin who've read the book are telling her they didn't know this or they were surprised to learn that...
Our mother's story is a testament to all of us: no matter what path we've chosen in life, we all have a story to tell.
You won't want to miss this one!
Thank you! Catherine & Elizabeth